International Seminar on "Smart and Resilient Sustainable Cities" Kicks off at ICESCO Headquarters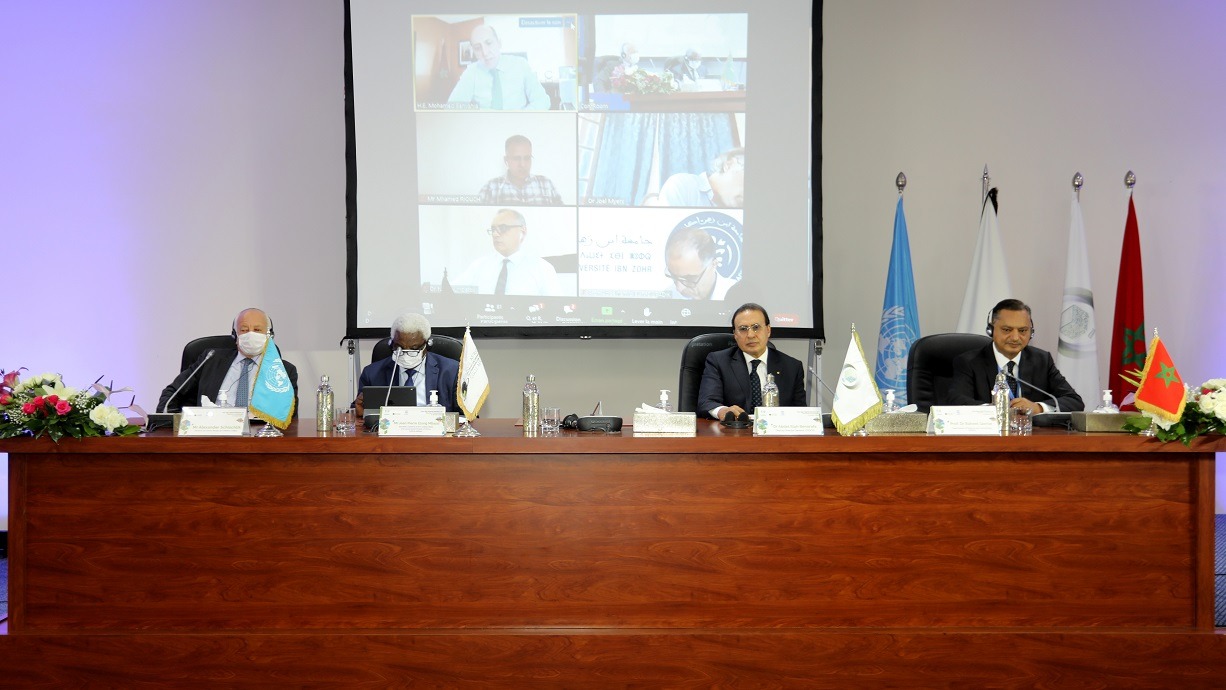 4 June 2021
The International Seminar on "Smart and Resilient Smart Cities" kicked off yesterday, Thursday, June 3, 2021, at ICESCO Headquarters. The Islamic World Educational Scientific and Cultural Organization (ICESCO) is organizing the Seminar in partnership with UNESCO Maghreb Bureau and the United Cities and Local Governments of Africa (UCLG Africa).
The two-day hybrid event seeks to shed light on the good practices of environmentally friendly cities and promote the development of cities in line with Sustainable Development Goals (SDGs).
Dr. Abdelilah Benarafa, ICESCO Deputy Director-General (DG), opened the Seminar and noted that the event is held as part of the celebration of World Environment Day, observed each year on June 5, a celebration hosted this year by Pakistan under the slogan "Restoring the Ecosystem." Dr. Benarafa stated that the presence of representatives from several international institutions bears witness to the importance of this Seminar.
ICESCO Deputy DG reaffirmed that the Organization recognizes the importance of urban development in line with sustainable development strategies, stressing that ICESCO strives to promote the concept of smart, sustainable and resilient green cities among its Member States. "This paradigm shift could play a pivotal role in improving the quality of urban life and providing a model for cities seeking to achieve sustainable development," Dr. Benarafa added.
In his address, Mr. Mohamed Benyahia, Secretary-General of the Environment Department at the Ministry of Energy, Mining and Sustainable Development, stated that the Seminar is an opportunity to discuss challenges facing sustainable cities, highlighting the importance of coming up with comprehensive and integrated solutions to these challenges, especially those related to climate change.
Jean-Pierre Elong Mbassi, UCLG Africa Secretary-General, explained that a large part of the urban population lives in vulnerable conditions, making cities less resilient and less likely to overcome crises, as was the case during the COVID-19 pandemic. He added that smart and sustainable cities will be more prepared to face such crises.
Mr. Alexander Schischlik, Acting Director of UNESCO Office in Rabat, thanked ICESCO for holding the Seminar, underscoring that smart cities have become a necessity for both human development and his ability to cope with crises.
Mr. Saleh Al-Malouki, Mayor of Agadir, highlighted the city's experience in environmental protection and noted that the city of Agadir received local and international awards for implementing innovative ideas, particularly in solving the issue of waste disposal.
Dr. Raheel Qamar, Director of the Science and Technology Sector at ICESCO, closed the opening session which he moderated. The first working session was dedicated to the "Introduction of Sustainable & Smart Cities Concept," while the second session featured the presentation of several countries' smart cities transition experiences, followed by a general discussion.
The agenda for the second day of the Seminar includes a panel discussion and the preparation of action plans for the transition to smart and sustainable cities, followed by a general discussion. The Seminar will conclude its proceedings by issuing its recommendations.