ICESCO Takes Part in International Forum on Earth Observation and Geographic Information Technologies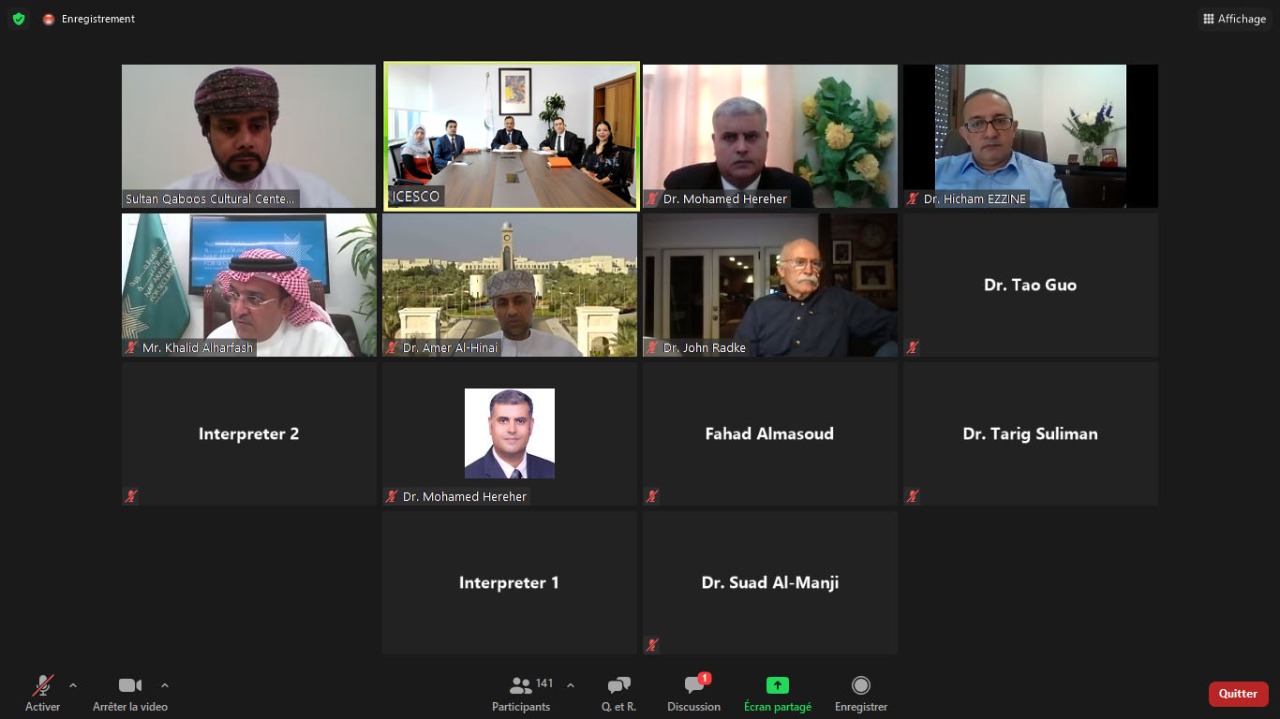 27 May 2021
The Islamic World Educational, Scientific and Cultural Organization (ICESCO), along with Sultan Qaboos University in the Sultanate of Oman and Naif Arab University for Security Sciences (NAUSS) in the Kingdom of Saudi Arabia, participated in the organization of the International Forum on Earth Observation and Geographic Information Technologies. The Forum was held under the high patronage of H.H. Dr. Fahd bin Al-Julanda Al Said, President of Qaboos University, under the theme, "Application on Natural Disasters Management and Prevention."
Dr. Raheel Qamar, Head of the Sector of Science and Technology at ICESCO, and a host of experts at the Sector represented ICESCO in the Forum opening, which kicked off Wednesday, May 26, 2021, via videoconference. Dr. Amer Al Hinai, Deputy Vice-Chancellor, for Postgraduate Studies & Research, represented Sultan Qaboos University, while Mr. Khalid Al-Harfash, Vice President for External Relations​, represented NAUSS.
In his address at the Forum, Dr. Qamar reaffirmed that natural disasters such as floods, earthquakes, tsunamis, and drought waves are increasing rapidly across the globe with growing devasting impacts, thus undermining sustainable progress and stability. He noted that ICESCO is continuing its efforts to implement its Strategy for Natural Disaster Risk Reduction and Management in the Islamic World, which is in line with the Seven Global Targets of the Sendai Framework for Disaster Risk Reduction that was adopted in 2015 in Japan.
Dr. Qamar added that the use of satellite images, geospatial information technologies, remote sensing technology, early warning systems, ICT, cloud computing, and AI can assist decision-makers and technical teams in taking the right decisions at the right time, cut, manage and reduce losses, and improve post-disaster rebuilding.
Dr. Foued El-Ayni, Expert at the Sector of Science and Technology, gave a presentation on ICESCO's achievements and programs for 2021-2023 on disasters risks management and reduction.
The Forum aims to provide basic and practical insights into geoscientific technologies, risk management applications, Earth monitoring and geospatial information technologies. It is also an opportunity to raise awareness about natural disaster reduction, and exchange expertise and lessons learned on the application of geospatial information technologies.