ICESCO Director-General Meets with OIC Secretary-General in Jeddah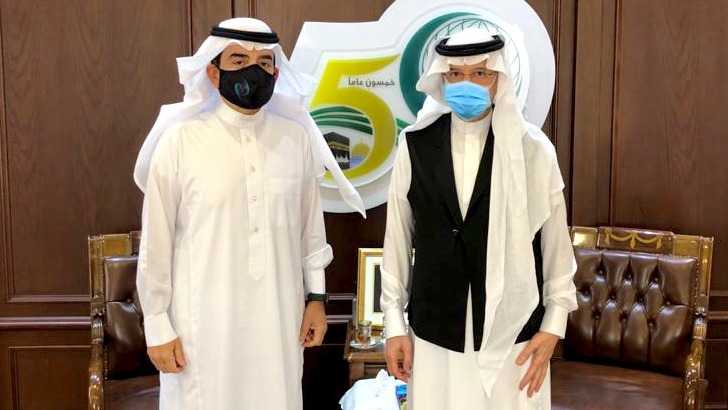 16 February 2021
Dr. Salim M. AlMalik, Director-General (DG) of the Islamic World Educational, Scientific, and Cultural Organization (ICESCO), met with Dr. Youssef bin Ahmad Al-Othamimeen, Secretary-General (SG) of the Organization of Islamic Cooperation, and together they explored several issues of mutual interest. The two parties stressed the importance of keeping the working committee that they set up to coordinate between the two organizations.
During the meeting held on Monday, February 15, 2021, at the OIC headquarters in Jeddah, Saudi Arabia, the two parties reaffirmed the complementary relation between the two organizations. They also discussed the significance of specialized sector-based conferences and the need to consider the geographical distribution in selecting the venues for these conferences.
Dr. AlMalik highlighted the key programmes the Organization implements including programmes for training and building the capacities of young people in the Islamic world through leadership incubators. He also discussed ICESCO's proclamation of 2021 as the Year of Women, stressing the importance of the OIC participation in the year's activities and programmes as well as the participation of the Organization for Women Development in OIC Member States.
The two parties agreed to implement several joint programmes to be set through the Joint Committee, which holds its meetings annually to coordinate between the two organizations. They also agreed to hold the Committee's meeting soon to review the details of these programmes.
At the close of the meeting, ICESCO DG expressed, on his and the Organization's behalf, his thanks and appreciation to the OIC SG for his keenness to sustain constructive cooperation between the two parties.
Several OIC officials attended the meeting namely, Ambassador Tariq Bakhit, Assistant SG for Humanitarian, Cultural and Social Affairs; Dr. Amina Obeid Al-Hajri, DG of the Department of Cultural and Social and Family Affairs; and Dr. Maha Aqil, Director of the Department of Family Affairs.