Launch of Project to Support Women and Young People in Côte d'Ivoire in Partnership between ICESCO and Alwaleed Philanthropies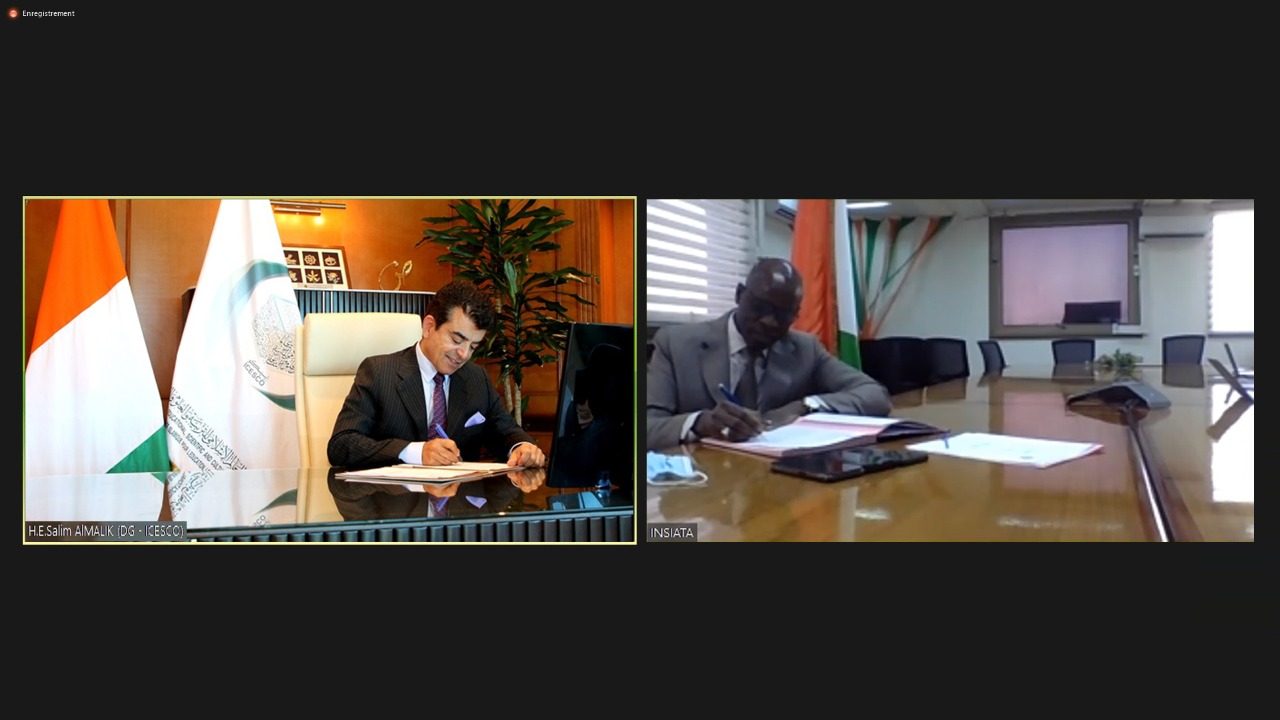 26 January 2021
The Islamic World Educational, Scientific, and Cultural Organization (ICESCO) and the National Commission for Education, Science, and Culture of Côte d'Ivoire signed an agreement to implement the Project of "Countering COVID-19 Effects through Supporting Innovation and Entrepreneurship among Women and Youth." The project is part of the partnership between ICESCO and Alwaleed Philanthropies to support the efforts of 10 African countries to mitigate the impact of the pandemic.
The signing ceremony took place today, Tuesday, January 26, 2021, via videoconferencing, with the participation of Dr. Salim M. AlMalik, ICESCO Director-General (DG), and Mr. Adama Diawara, Minister of Higher Education and Scientific Research, President of the Ivoirian National Commission.
In his address at the ceremony, the DG reaffirmed ICESCO's sustained efforts to support its Member States in mitigating the impact of COVID-19. The efforts are part of the Organization's new vision that is based on promoting communication mechanisms with the Member States and identifying their respective needs and priorities.
The DG also expressed his thanks to ICESCO's partner, Alwaleed Philanthropies, for its generous support for ICESCO's humanitarian and social initiative to assist 10 African countries, including Côte d'Ivoire. H.R.H. Prince Al-Waleed bin Talal Al Saud chairs the Foundation's Board of Trustees.
Mr. Adama Diawara congratulated ICESCO for the outstanding initiatives, programs, and activities the Organization has launched and implemented during the pandemic to support its Member States' efforts and build their capacities to mitigate the pandemic's impact. He also commended the assistance Alwaleed Philanthropies provided to Côte d'Ivoire through its partnership with ICESCO.
At the close of the ceremony, the project's Memorandum of Understanding was signed. The project aims to nurture the sense of entrepreneurship among women and young people, especially in rural areas, as well as workers in the informal sector through the local production of hygiene products and preventive equipment. It also aims to promote women and young people's innovation and entrepreneurship skills and disseminate new hygiene practices to foster public health awareness and facilitate the restructuring of economic activities in Côte d'Ivoire.
ICESCO provided in June 2020, in partnership with Alwaleed Philanthropies, humanitarian aids consisting of food items and medical products valued at USD40,000. Underprivileged people received the aid to mitigate the impact of the pandemic and protect against the virus.
Over the course of four decades, Alwaleed Philanthropies has provided support, spent more than SAR15 billion, and implemented over 1000 projects in more than 189 countries across the globe. Ten Saudi female members managed the projects, benefiting more than one billion people around the world, regardless of gender, race, or religion. Alwaleed Philanthropies collaborates with a range of philanthropic, governmental, and educational organizations to combat poverty, empower women and youth, develop communities, provide disaster relief, and create cultural understanding through education. Together, we can build bridges for a more compassionate, tolerant, and accepting world.