ICESCO Takes Part in 3rd Session of Islamic Organization for Food Security General Assembly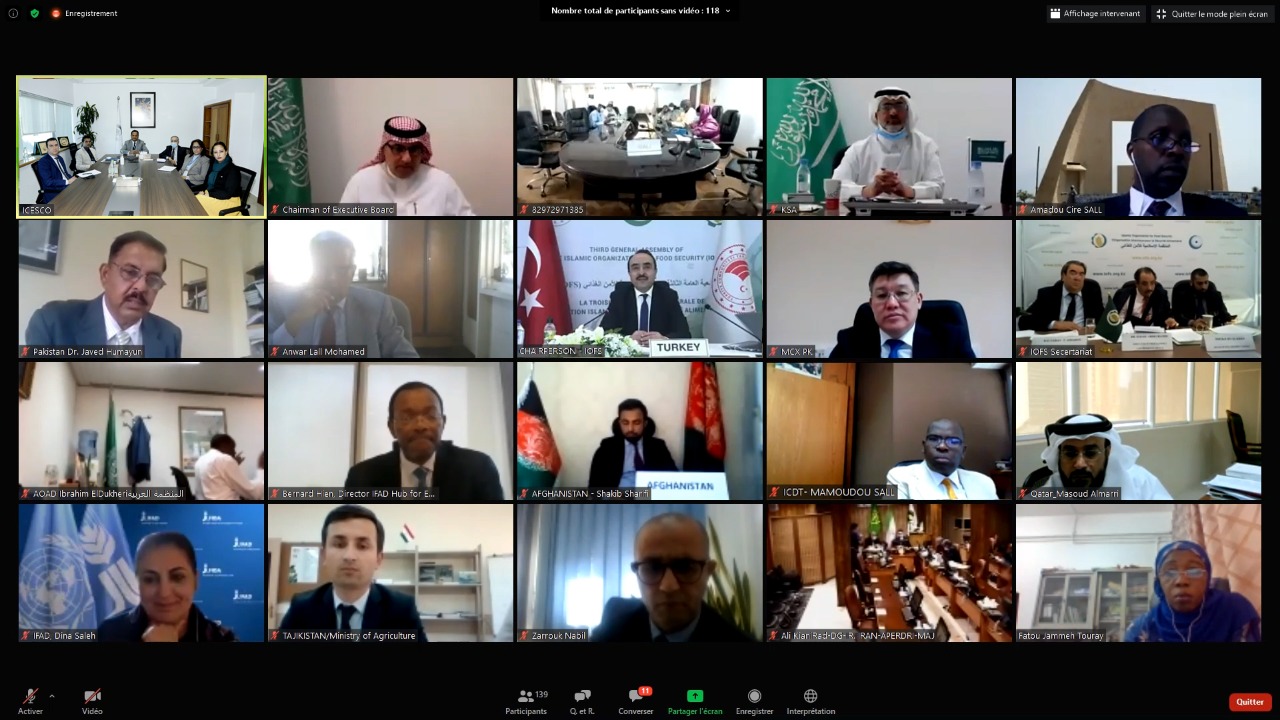 4 December 2020
The Islamic World for Educational, Scientific, and Cultural Organization (ICESCO) participated in the 3rd session of the General Assembly of the Islamic Organization for Food Security (IOFS), held 2-3 December 2020, in Ankara, Turkey. The event was held under the title: "Sustainable development of food security in the OIC region."
Representatives of specialized international organizations, ministers, and experts in the field of agriculture and food security participated in the videoconference.
The meeting discussed the importance of cooperation among Member States to address the current challenges and develop a strategy for food security in the Islamic world. The session also focused on the importance of establishing a food security reserve for OIC and facilitating access to food in the Member States.
The goal can be met through coordinating food stock policies, monitoring the countries' food security situation, adopting IOFS' action plan and its implementation mechanisms, forming steering committees for strategic agricultural commodities, the project committees affiliated with it, and approving the proposed regional centers of excellence.
The participants also examined the proposal of establishing the Islamic Food Processing Association and developing national gene banks as stipulated in OIC's Agenda 2026 for Science, Technology, and Innovation.
Dr. Raheel Qamar, head of the Science and Technology Sector, and several experts in the sector represented ICESCO in the videoconference. The participants emphasized the importance of strengthening gene banks in the Member States, given the strategic role the states play in the integrated management of genetic assets.
The participants also stressed the importance of food security governance in the Member States, combating desertification, fighting the loss of vegetation cover, taking the necessary measures to protect biodiversity in the countries of the Islamic world. The parties in the meeting also tackled the issue of grain banks and cooperation between ICESCO and other organizations.
The IOFS, an organization affiliated with the OIC, was established in 2016 and is headquartered in Kazakhstan. The goals of the organization include providing expertise and technical knowledge to the Member States in various aspects of sustainable agriculture, rural development, food security, and biotechnology. The organization also assesses and monitors the state of food security, provides social safety nets and humanitarian aid, and combats desertification, deforestation, and erosion.