ICESCO and Moroccan National Commission Launch Project to Support Women and Youth, Funded by Al-Waleed Philanthropies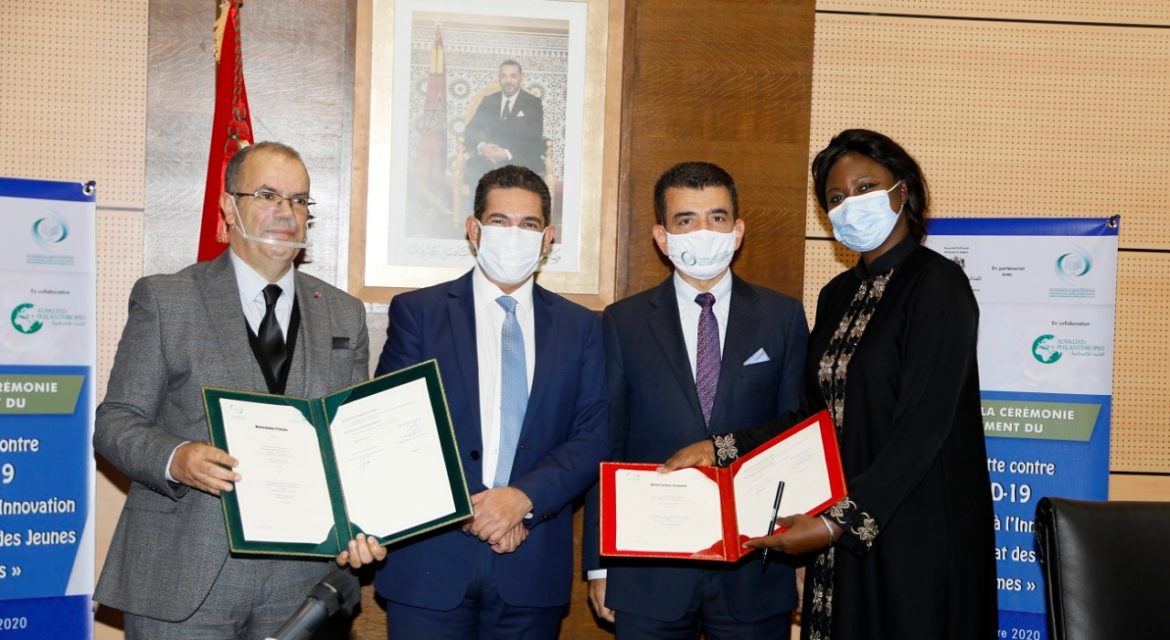 13 November 2020
The headquarters of the Moroccan Ministry of National Education, Vocational Training, Higher Education and Scientific Research saw yesterday, the launch of the "Project on countering the effects of the COVID-19 pandemic by supporting innovation and the development of entrepreneurship among women and youth."
The project is part of the cooperation between the Islamic World Educational, Scientific, and Cultural Organization (ICESCO) and the Moroccan National Commission for Education, Science, and Culture, with the support of Al-Waleed Philanthropies.
Before the beginning of the ceremony, Mr. Said Amzazi, Moroccan Minister of National Education, Chairman of the Moroccan Commission, held a special meeting with Dr. Salim M. AlMalik, Director-General (DG) of ICESCO.
During the meeting, both parties reviewed the successful cooperation and partnership programs between ICESCO and Morocco. They also stressed the continuation of joint action to achieve the objectives of the agreed programs. Mr. Jamal Eddine El Aloua, Secretary-General of the Moroccan National Commission, and Dr. Abdelilah Benarafa, Cultural Advisor to ICESCO DG, also attended the meeting.
During the ceremony, Mr. Amzazi gave an address wherein he expressed his satisfaction with the project, marked by effective governance and based on a participatory approach and defining responsibilities through the creation of national coordination and follow-up unit to be headed by the Secretary-General of the Moroccan National Commission.
Mr. Amzazi also thanked ICESCO and its DG for the Organization's services to the Member States based on forward-looking vision. He commended the efforts of the Moroccan Commission in keeping up with ICESCO's projects and making progress within the framework of the strategic partnership to ensure the success of all projects.
In his address, Dr. AlMalik praised the great interest shown by His Majesty King Mohammed VI, may Allah assist him, in dealing with the COVID-19 pandemic, which has made Morocco an example to follow in the implemented measures to deal with the negative repercussions of this pandemic.
The DG also expressed his thanks and gratitude to ICESCO's permanent partner, Al-Waleed Philanthropies Foundation, whose Board of Directors is chaired by His Royal Highness Prince Al-Waleed bin Talal, for its generous donation and support to ICESCO's humanitarian and social initiatives to assist 10 African countries, including Morocco. The project falls within the partnership.
Dr. AlMalik pointed out that under the new vision, the Organization has greatly supported the Member States through numerous initiatives to provide preventive, educational, and medical equipment and materials based on the needs of each country.
Ms. Maryam Ait Mahoucht, from the Moroccan National Commission, and Ms. Ramata Almamy Mbaye, Director of the Human and Social Sciences Sector at ICESCO, gave an explanation on the phases and details of the project as well as its implementation plan.
At the close of the ceremony, the two parties signed a Memorandum of Understanding on the implementation phases of the project, which aims at developing the sense of entrepreneurship among women and youth in Morocco and supporting the private sector, entrepreneurs, and small businesses.