ICESCO and Rabita working on the first academic guide for breaking down extremist discourse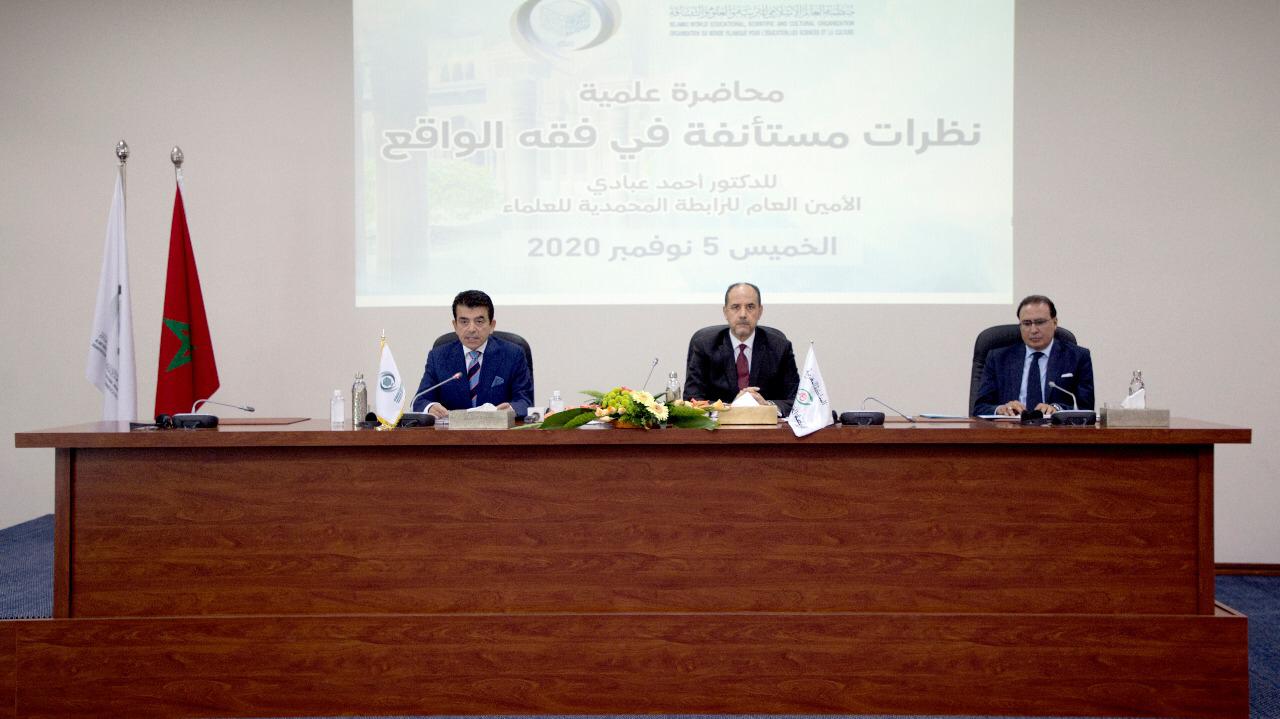 6 November 2020
ICESCO held yesterday, at its headquarters, an academic conference entitled: "Continuous reflections on the jurisprudence of reality." Dr. Ahmed Abbadi, Secretary-General of the Rabita Mohammadia of the Ulemas of Morocco, gave the lecture, while Dr. Abdelilah Benarafa, Cultural Advisor to ICESCO Director-General, moderated it.
The conference took place in the application of the cooperation agreement signed between the two parties on March 2, 2020, relating to dialogue between civilizations and cultures, the fight against extremism, escalation and hatred, and the dissemination of the true image of Islam through a set of executive programs and academic projects.
Dr. Salim M. AlMalik, ICESCO Director-General (DG), confirmed during his intervention that the Organization had started to develop the first guide for university teaching and research institutions, on the decomposition of the discourse of extremism, and is currently developing the world's first psychological encyclopedia. He indicated the need for wise people to cooperate in building peace, fighting extremism and terrorism, and removing any confusion between the message of religions and the actions of criminals.
The DG added that the reality should be understood in light of the new changes. Among the problems of the jurisprudence (fiqh) of reality is the persistence in insulting the person of the Noble Prophet Mohammad (pbuh) and justifying it as freedom of expression. He cited the insulting drawings of the Prophet (pbuh), which caused the heinous murder of a teacher who had insisted that these drawings be part of the lessons taught in class.
Dr. Abbadi explained that we live in an accelerated world, in which information is now at the press of a button, wandering on the implications and meanings of the virtual world power. He explained the impact on teenagers and young people, who became loyal to an increasing number of influencers.
Dr. Abbadi stressed that "composition" is an important feature of Islamic law (Sharia), and not just a flat object (the permissible and the forbidden), referring to the contribution of Muslim scholars therein, such as Al-Shatibi, Ibn Al-Qayyim, and Ibn Khaldun. He added that the happiness of mankind in both worlds is the ultimate goal of religion.
Dr. Abbadi also mentioned that extremism spread when a group of individuals claimed that they could spread justice on earth after filling it with injustice. He continued that the group established the State of the Caliphate in the Middle East, the hub of the world and its cultural center. He added that the group representing the civilization must compensate for the acute shortage of academic platforms that deal with reality, and organize the paths and components of all dimensions, including intellectual, political, and research components. Dr. Abbadi pointed out the need to demonstrate the major goals that express the essence of religion to achieve the happiness of society.