Agreement to Finance Programs of ICESCO Arabic Language in Chad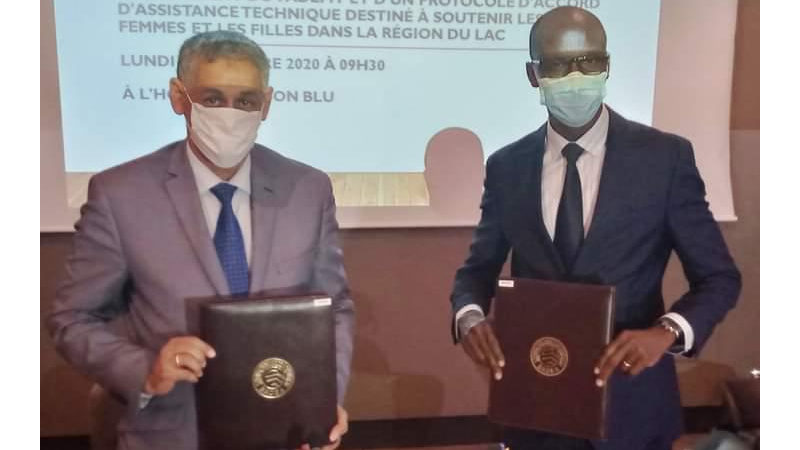 21 October 2020
The Chadian Ministry of Economy, Planning, Development, and International Cooperation and the Arab Bank for Economic Development in Africa (BADEA) signed on October 19, an agreement to support Arabic language teaching institutions in Chad. The support includes the Islamic World Educational, Scientific, and Cultural Organization's (ICESCO) Regional Educational Center in N'djamena.
Dr. Issa Doubragne, Minister of Economy, Planning, Development, and International Cooperation of Chad, and Dr. Sidi Ould Tah, BADEA Director-General (DG), signed the agreement.
The development bank will support a set of ICESCO's programs. The Organization's Center for Arabic for non-Arabic Speakers developed the programs to cover training sessions for teachers. The center also developed Arabic courses for administrative leadership in Chad and students of French-speaking schools.
The financing opportunity will help ICESCO's center in Chad to double its efforts in teaching Arabic to non-Arabic speakers and support the country's bilingualism strategy for its educational system.
In the wake of the signing of the agreement, BADEA's DG toured ICESCO's Center in Chad. Having met the members of the Center's administration, teachers, and students, the DG was briefed on the missions and services of the Center to the learners of Arabic to non-Arabic speakers and the training of teachers of Arabic.
BADEA's DG lauded ICESCO's efforts and outstanding work in the fields of education, science, and culture, and the establishment of its regional center in N'djamena, one of the major Arabic language teachings in the Republic of Chad.