ICESCO to hold International Webinar to Explore Technology Use in Crises Management in Islamic World's Museums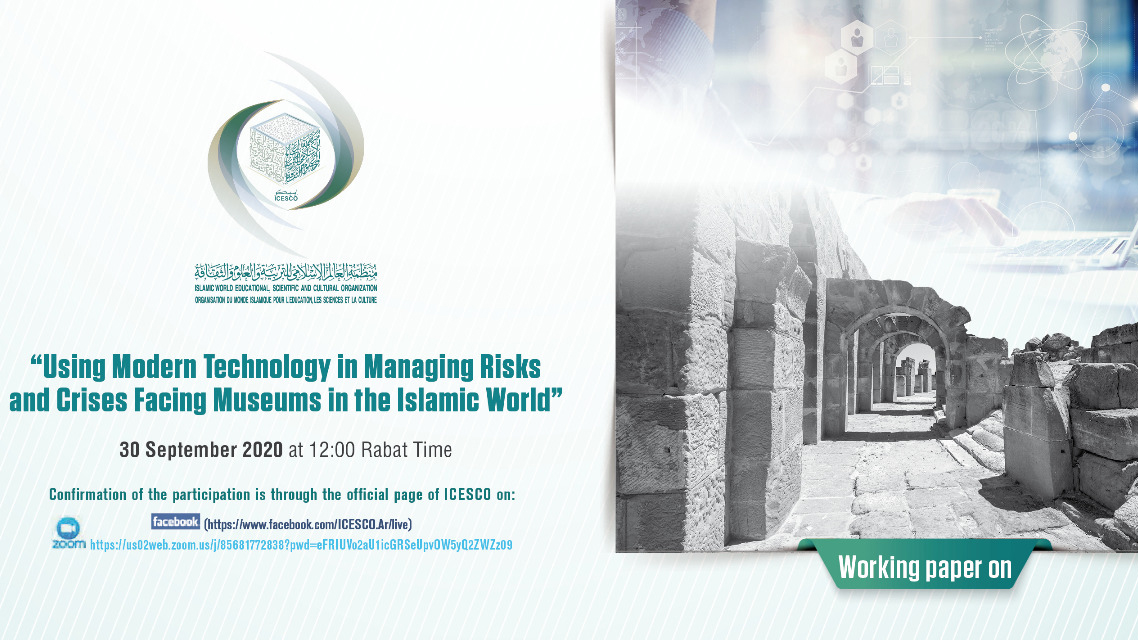 29 September 2020
The Islamic World Educational, Scientific, and Cultural Organization (ICESCO) will hold tomorrow, September 30, an international webinar titled "Using Modern Technology in Managing Risks and Crises facing Museums in the Muslim world."
The Organization will hold the webinar concurrently with the celebration of the Museum Week and Islamic World Heritage Day, in cooperation with the International Council of Museums (ICOM). The event will bring together officials of Islamic world's museums.
The webinar will start at 11:00 GMT (12:00 Rabat Time). It aims to share successful experiences and anticipate plans and strategies to ensure the right to access museums and valorize the exhibited works. The issue is particularly pertinent amid the pandemic-related circumstances.
The webinar targets the staff of the museum institutions and sectors, experts, and specialists of heritage protection as well as civil society institutions and bodies operating in the field of heritage protection and valorization.
The opening session will feature the addresses of Dr. Salim M. AlMalik, ICESCO Director-General (DG); Her Highness Princess Dana Firas, President of ICOMOS Jordan; Dr. Mohamed Ouled Amer, DG of the Arab League Educational, Cultural, and Scientific Organization (ALECSO); and Mr. Ech Cherki Dahmali, DG of Maroc Telecom Museum.
Dr. Mohamed Zin El-Abidine, Director of Culture and Communication Sector at ICESCO, will co-chair the first session with Dr. Abdelilah Ben Arafa, Advisor to the DG. The session will focus on the use of modern technology in crisis management at museums.
The list of the speakers will include Maj. Gen. Atef Moftah, General Supervisor of the Grand Egyptian Museum (GEM); Dr. Badr al-Darwish, Assistant Secretary General of Kuwait's National Council for the Arts and Culture (Kuwait); and Dr. Fatma Nait Aghil, Director of Bardo National Museum (Tunisia).
Other speakers will be Dr. Hamady Bocoum, Director of the Museum of Black Civlizations, Dakar (Senegal); Dr. Saad Abdelhadi, Secretary of the Board of Trustees of Mahmoud Dawish Museum (Palestine); and Dr. Ahlam bint Yaaqub Al-Aghbariya, Director of Information Technology Department at the National Museum of Oman, Muscat (Oman).
Ambassador Khalid Fathalrahman, Director of Dialogue and Cultural Diversity at ICESCO, will chair the second session. The goal is to explore the alternative solutions to managing museums and exhibitions in light of the COVID-19 health protocol.
The list of speakers will include Dr. Faisal bin Mohamed Al-Sharif, Former Supervisor of Mecca Museum (Saudi Arabia); and Dr. Sabah Abdel Razak, DG of the Egyptian Museum in Tahrir, Egypt.
Other speakers will be Dr. Rasmata Sawadogo, Director of the National Museum in Ouagadougou, Coordinator of ICESCO Regional Center for Training Museum Professionals (Burkina Faso); Dr. Huges Tchana Heumen, Director of the National Museum (Cameroon); and Dr. Abbes Mendil, Director of Governorates Museums (Iraq).
Dr. AlMalik will give the closing address of the Webinar.
The live is available on ICESCO's Facebook page via the link: https://www.facebook.com/icesco.en