In an ICESCO virtual meeting: National Commissions discuss post-COVID-19 world action priorities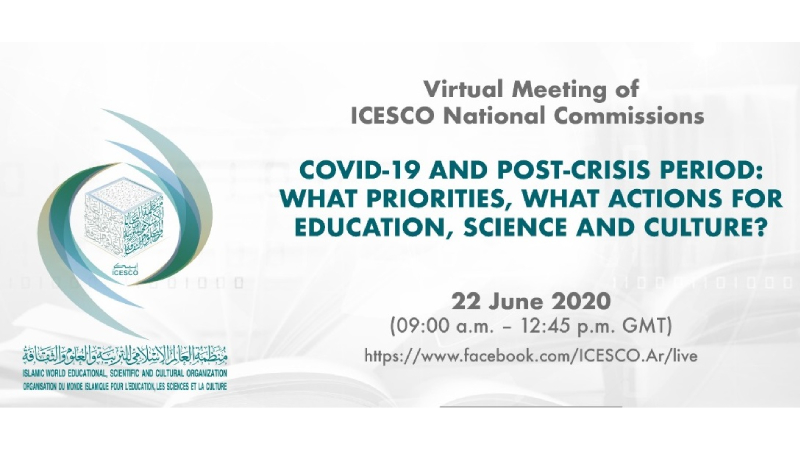 20 June 2020
The Islamic World Educational, Scientific and Cultural Organization (ICESCO) will hold a key virtual meeting for the National Commissions for Education, Science and Culture in ICESCO Member States. The meeting will be held Monday 22 June 2020, at 9 a.m. GMT (10 a.m. Rabat time), under the theme "Post-COVID-19 world: what action priorities and procedures for education, science and culture?".
The meeting, which will be opened by the Director General, Dr. Salim M. AlMalik, is honored by the participation of Princess Doaa Bint Mohammad Ezzat, Supreme Chairwoman of the Women Arab Organization and Peace Ambassador at the United Nations; and the great scientist, Rachid Yazami, inventor of the Lithium ion, as guests of honor. The meeting will also bring together the respective representatives of the Islamic world countries and a host of experts and specialists in the sectors of education, science, and culture.
The meeting will shed light on the initiatives taken by the National Commissions at the national level in the fields of education, science, and culture; and share the expected concepts for the post-COVID phase and overcoming its impact. The meeting also aims to set up a platform for the National Commissions for exchange and anticipatory thought regarding possible amendments, activities, and procedures to be implemented in the fields of education, science, and culture after overcoming the pandemic.
The meeting will be live broadcasted on ICESCO's official Facebook, via the following link:
https://www.facebook.com/ICESCO.Ar/