Nomination details, jury composition and submission requirements of ICESCO Prize for Fighting Novel Coronavirus (Covid-19)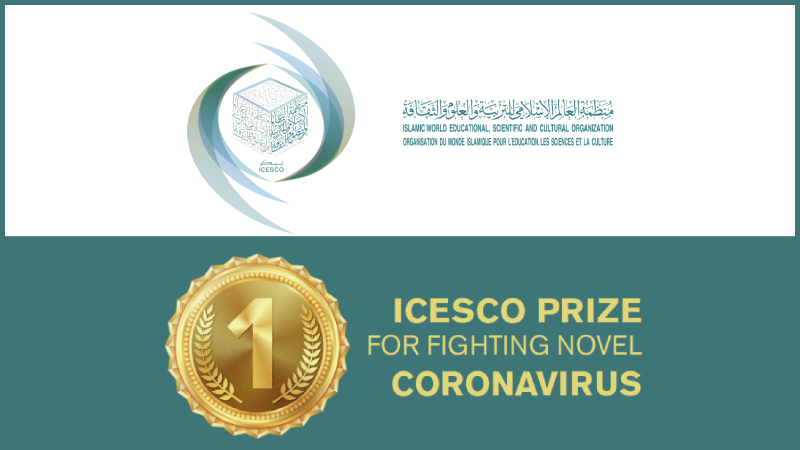 12 April 2020
The Islamic World Educational, Scientific and Cultural Organization (ICESCO) has announced the nomination requirements, the Jury's composition and evaluation of nomination files for 200,000 US dollar-worth ICESCO Prize for Fighting Novel Coronavirus (Covid-19). The Prize has been earmarked by ICESCO to reward anyone who has discovered an efficient cure or vaccine against Coronavirus. To this effect, the Organization invites independent researchers, group of researchers or research institutions to send their nominations as from 15 April 2020.
In its call for nominations, ICESCO stated that in the face of the international health crisis that affects humanity, the world is in dire need of more medical and scientific research to find effective and sustainable solutions to today's challenges. In response to World Health Organization's appeal to the international community to "seize every opportunity to halt, contain, combat and delay the spread of the virus, and mitigate its impact", ICESCO launches its Prize for Fighting the Novel Coronavirus (COVID19).
It added that a jury will be set up and chaired by ICESCO Director General. It will comprise two representatives of specialized international organizations and four scientists to be selected from leading world universities and internationally recognized research centers. The Jury's Secretariat will be seated at ICESCO headquarters in Rabat, Kingdom of Morocco.
To submit a nomination for the Prize, the independent researcher, group of researchers or research institutions having announced the discovery of an effective cure or a vaccine against the novel Coronavirus has to send a complete file to the Secretariat of the Jury, including:
• The Prize Nomination Form which is available on ICESCO's website www.icesco.org;
• A detailed report on the discovery;
• CV of the independent researcher or group of researchers. In case of a research institution, the CV of the lead scientific expert;
• Patent registration with an official competent authority;
• All supporting technical documents likely to support the claim of the discovery (3 recommendation letters to support nomination).
As for the procedures and duties of the Jury, the Organization reaffirmed that upon receipt of the nomination files, the Jury will then convene to review the validity of the claimed discoveries, and may seek additional expert opinion and guidance from national health authorities, the World Health Organization or any entity it deems necessary. Based on the aforementioned, the jury will issue a decision to award the Prize to the independent researcher, group of researchers or research institution and will inform ICESCO Director General accordingly. The Director General of ICESCO will then inform the winner of the Prize Award.
The award ceremony will be held at ICESCO headquarters with the participation of the winner, who will receive ICESCO medal in addition to the Prize, the members of the jury, partner organizations and invited scientists and researchers.