ICESCO lab begins hand sanitizer production at Science and Technology University in Mali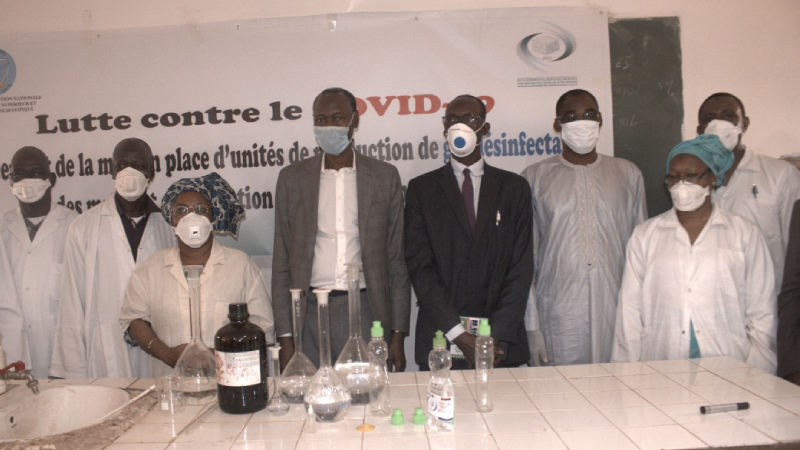 9 April 2020
As part of the continued effort of the Islamic World Educational, Scientific and Cultural Organization (ICESCO) to support Member States in mitigating the impact of COVID-19 pandemic, and to bring about one of its several initiatives on the ground, a sanitizer production unit at the Science and Technology University in Bamako, Mali began producing hand sanitizers to distribute them to needy citizens.
This unit will produce 5,000 bottles of hand sanitizer and it is the first of the two units inaugurated with the support of ICESCO through the Malian National Commission for Education, Science, and Culture. This support is part of ICESCO's project to provide technical and financial assistance to a number of some Islamic world countries to set up low-cost hand sanitizer production units and train locals in this field. The second unit will soon start its production activity at the University of Medicine in Mali.
The Minister of National Education, Higher Education and Scientific Research in the Republic of Mali, Dr. Mahamoudou Famanta, visited the production unit and expressed his satisfaction with the hand sanitizers produced, which will help curb the spread of COVID-19. The Minister also met with the working team (30 people) overseeing the production of sanitizers and training locals on this job.
It is noteworthy to mention that the cooperation between ICESCO and the Republic of Mali constitutes the first phase of this project, which will be replicated in the majority of the Member States and Muslim communities across the globe as per their needs. ICESCO is currently communicating with these countries to start implementation.
The Organization also reaffirms that it will continue to closely monitor the impact of COVID-19 spread on the educational, scientific, cultural and humanitarian situations in the Member States. The Organization will further provide its Member States with the most effective means to support their efforts vis-à-vis all developments, reaffirming its confidence in the ability of every nation to overcome this crisis.
ICESCO is considered one of the leading organizations at the international level in mitigating the impact of Coronavirus pandemic in its areas of competence. The Organization launched many practical initiatives to achieve such a goal, including "ICESCO Digital Home" on its website, www.icesco.org, which gives access to a remarkable list of digital contents in the fields of education, science, and culture.