ICESCO Director General and Sharjah Ruler explore ICESCO-Sharjah cooperation promotion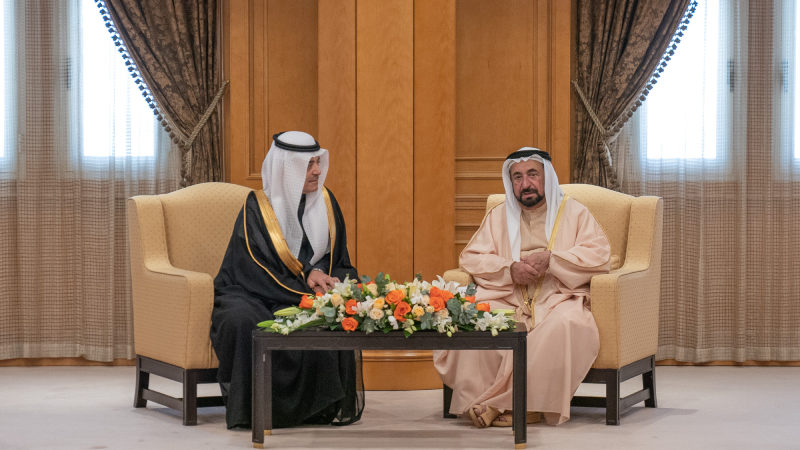 3 February 2020
His Highness Dr. Sultan bin Muhammad Al-Qasimi, Member of the Federal Supreme Council of the United Arab Emirates, Ruler of Sharjah, President of the University of Sharjah, received Dr. Salim M. AlMalik, Director General of the Islamic World Educational, Scientific and Cultural Organization (ICESCO), Secretary General of the Federation of the Universities of the Islamic World (FUIW), on the sidelines of the proceedings of the 23rd Executive Council of the Federation, hosted by the University of Sharjah and which will conclude its work today.
During this meeting, which aims at examining the promotion of cooperation between ICESCO and the Emirate, Dr. AlMalik reviewed the new vision of ICESCO, which makes it a beacon of influence for the Islamic world in the fields of education, culture and science. He invited H.H. to be a guest speaker at the Cultural Forum of ICESCO, launched by the Organization's General Directorate to welcome leading intellectuals inside and outside the Islamic world to discuss intellectual and cultural issues.
The two parties also discussed the outcomes of the 40th Executive Council of ICESCO, held on 29-30 January 2020 in Abu Dhabi, whose decisions constitute a qualitative leap and a new stage in ICESCO's future action. These include the adoption of the new name of "ICESCO" in order to avoid any confusion about its non-Da'wa missions, the opening of wider perspectives on the international scene, as well as the adoption of the following documents: Amendment to the Organization's Charter and Rules of Procedure, ICESCO's New Strategic vision, the Establishment of a Development Waqf Fund to ensure the sustianable financing of ICESCO's programmes for the benefit of Member States, and the Establishment of the Organization's International Consultative Council, in addition to other important decisions.
In this connection, the Director General expressed his thanks and gratitude to His Highness the Ruler of Sharjah for hosting the proceedings of the FUIW Executive Council at the University of Sharjah, as well as for his unfailing support to ICESCO through his sponsorship of the Organization's Regional Office in Sharjah. The two parties also discussed the promotion of the Office's action to keep up with the new developments of ICESCO.
On his part, His Highness welcomed this new vision that makes of ICESCO a major international organization in its fields of competence, reaffirming his willingness to support ICESCO and its future action programmes.
The meeting took place in the presence of Dr. Hamid M. Al Naimiy, Chancellor of the University of Sharjah; Mr. Mohamed Ghemari, Director of the Secretariat of the General Conference, Executive Council and Specialized Ministerial Conferences; and Dr. Obaid Al-Hajri, Director of ICESCO Regional Office in Sharjah.