Outlook on the future…constructive initiatives…new structure: ISESCO heading towards new phase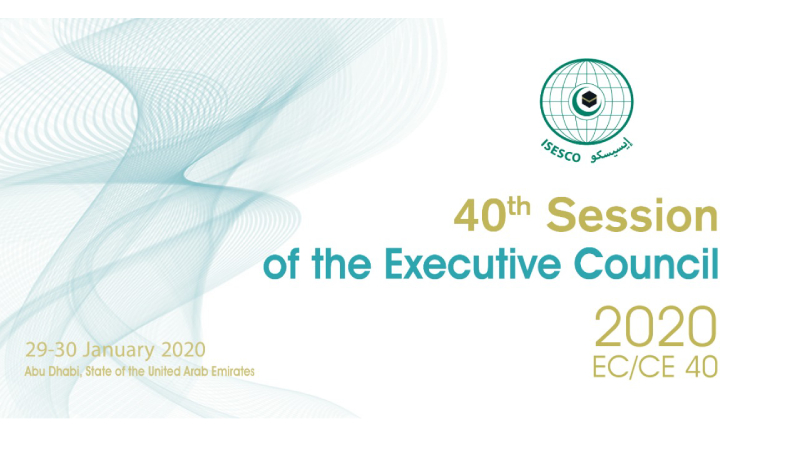 27 January 2020
**40th session of ISESCO Executive Council to kick off tomorrow in Abu Dhabi
**AlMalik: The session is key to applying the Organization's new vision and future strategies
The 40th session of the Executive Council of the Islamic Educational, Scientific and Cultural Organization (ISESCO), will kick off on Wednesday 29 January 2020, in Abu Dhabi. This session is exponentially important given that it enjoys the powers of the General Conference, the highest power representing 54 Member States in overseeing the Organization's action and general policies.
In this connection, Dr. Salim M. AlMalik, ISESCO Director General, underlined that this is a key session in the history of the Organization during which ISESCO's new vision will be presented to the Member States, in the form of decisions and action orientations for the upcoming period. This new vision adopts more openness to and cooperation with Member States, considering that ISESCO is the house of expertise of Muslim countries, thus making it the beacon of civilizational outreach that promotes joint Islamic action. It is for this reason that ISESCO inaugurated its Center of Strategic Foresight.
In addition, Dr. AlMalik expressed his thanks to the State of the United Arab Emirates, represented in the Ministry of Culture and Knowledge Development, for hosting the 40th ISESCO Executive Council over the course of two days, while commending the great eagerness and facilitations to host this major event.
The agenda of the Council features reviewing ISESCO's strategic projects and future action plans, including the Organization's new strategic vision, structural plans, Action Plan for 2020-2021, and the new Medium-Term Strategic Plan for 2020-2030.
The Council will also review the report on ISESCO's action in the previous years, the Financial Report, the Report on Member States' Contributions to the Organization's Budget, and Proposals on Member States' Payment of their Arrears to ISESCO's Budget.
Moreover, the Council will examine a number of key organizational matters including the Draft New Organizational Structure of ISESCO, Project of the Establishment of a Development Waqf Fund for ISESCO, and the Project of the Establishment of ISESCO International Consultative Council.
Likewise, this Council session will elect the members of the Financial Control Committee; adopt the new audit company; and set the date and venue of the 41st session of the Council.