AlMalik: the technological developments deeply affected the profession of press and there is a need for restructuring its working systems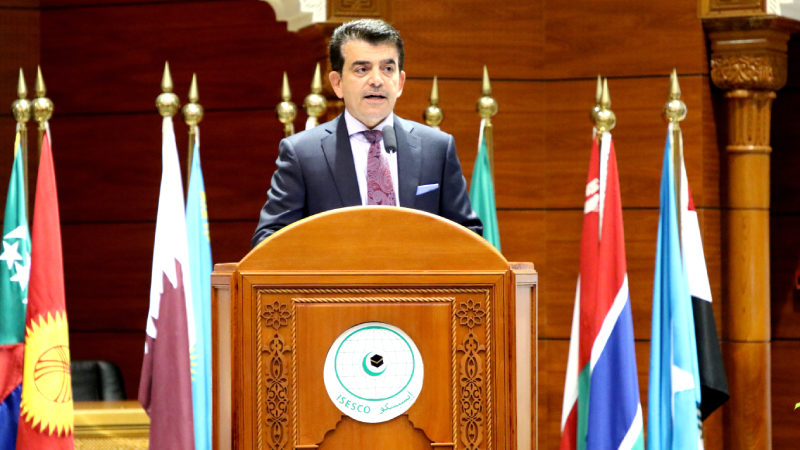 22 January 2020
Dr. Salim M. AlMalik, Director General of the Islamic Educational, Scientific and Cultural Organization (ISESCO), stressed that the crisis of the profession of press is not only limited to the ethical aspect and the societal issues, this profession also suffers, due to the new technological transformations, from a vocational vulnerability that negatively affects the work of journalists and necessitates the restructuring of its working systems.
This statement was part of his address at the third gathering of ISESCO Cultural Forum, yesterday evening, at ISESCO headquarters, under the theme 'Future of Information: from paper to digital press'.
Dr. AlMalik added that "the responsible press reflects the freedom of expression. It has always had the respect of the public opinion. However, many transformations have marred this trust. In the society of knowledge, communication and impressive digital transformations, information become in the heart of all the strategies. Journalists, press institutions and the funding parties become subject to wide criticism and there is much talk about the manipulation of public opinion by some media outlets, which consequently influenced the moral authority of press."
Dr. AlMalik also stated that the technological developments deeply affected the profession of press as the modern technological means radically impacted the sources of information and the relationship of journalists with readers. "Now, any human being can serve as an editor-in-chief of a personal blog, or even a special correspondent of newscasts. Thus, it is indispensable to redraw the borders of this profession and the types of engagements it requires with readers," he stressed.
Besides, ISESCO Director General highlighted that the traditional model of press cannot keep up with the digital developments in this profession because the social media, current priorities and the speed of the news flow immensely affected this model. "Press is a noble intellectual profession which requires hardworking, rigor, transparency, culture, time, and assisting means likely to contribute to the edification of the society of citizenship and democracy. It also contributes to the construction of the collective memory," Dr. AlMalik stressed.
At the close of his address, Dr. AlMalik asked many questions: Is the press still shaping the public opinion amid the new transformations? Does the press really contribute to sharing the true information and enlightening minds? Will the responsible press and the professional media stand before the accelerating digital developments that have allowed wrong hands to manipulate texts and images and disseminate fake news? He added that "Mr. Khalid AlMalik, Saudi Editor-in-Chief of the Saudi Newspaper Al Jazirah, Chairman of the Board of Directors of the Saudi Journalists Association, and President of the Gulf Press Union; and the Moroccan renowned writer and journalist, Mr. Mohammed Seddik Maaninou, who served in many positions and was Director of the National Television, will surely answer these questions." He thanked them for their participation at ISESCO Cultural Forum.