ISESCO International Cultural Forum hosts Dr. Ahmed Abbadi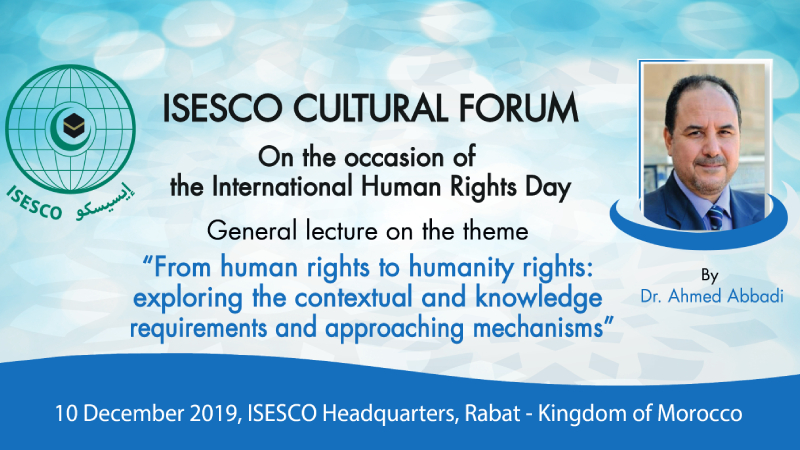 21 November 2019
ISESCO International Cultural Forum, which is organized by the Islamic Educational, Scientific and Cultural Organization (ISESCO). In its second gathering receives Dr. Ahmed Abbadi, Secretary General of Mohammedan League of Scholars, and one of the religious field's reform leaders under the Institution of Imarat Al-Mouminine (Commandment of the Faithful) in Morocco.
Dr. Abbadi will give a general lecture, on the occasion of Human Rights Day, under the theme "From human rights to humanity rights: Exploring contextual and knowledge requirements and approaching mechanisms", on Tuesday 10 December 2019 at 06:00 p.m., at ISESCO headquarters, located in FAR Avenue Rabat.
The lecture's importance consists in the fact that 'human rights' is one of the issues in which human societies have accumulated diverse experiences according to their various cultural and historical contexts. Today, we are about to move to a new generation of rights which takes into account the rights of humanity and future generations, and restructure the traditional human rights system to shift individual rights to collective ones in such a way as to embrace the future.
It is worth mentioning that the first gathering of ISESCO Forum, which hosted Dr. Abbès Jirari, dean of Moroccan literature, had a wide media coverage in Morocco and abroad and witnessed a large attendance of the intellectual, political and national figures, media professionals, civil society organizations, teachers and students.