In a press conference, Dr. AlMalik: our objective is to develop ISESCO both in form and content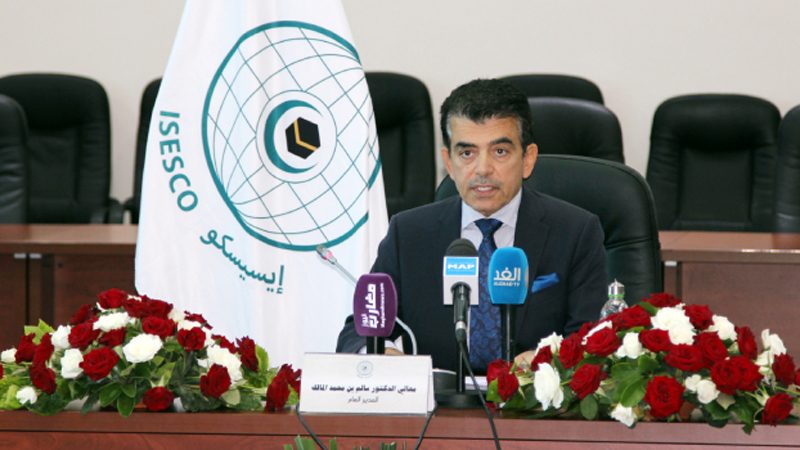 25 October 2019
Dr. Salim M. AlMalik, Director General of the Islamic Educational, Scientific and Cultural Organization (ISESCO), stated that the Organization has entered into a new phase of rebuilding based on an innovative vision, a developed methodology and modern foundations in its pursuit to achieve a genuine transformation to secure its proper international position and keep up with the rapid changes and modern technologies.
His statement was part of the press conference held today at ISESCO headquarters. Dr. AlMalik started this meeting with media professionals by saying that "ISESCO was founded to become the Islamic world's version of UNESCO. Today, we seek to become an international organization rather than a local or regional one. Besides, this aspiration is legitimate as it hinges upon a new vision which constitutes the basis of a strategy having future dimensions."
Moreover, ISESCO Director General stressed that the Islamic world deserves having a high-standing organization, with wide impact on Muslim communities inside and outside the Islamic world, which expresses the Muslim world's enlightened vision on contemporary issues relevant to ISESOC's areas of competence.
Dr. AlMalik further highlighted that modernizing ISESCO both in form and content is the major objective which includes the strategic objectives of the Organization. He also explained that ISESCO's new vision is based on three foundations: a) innovation in planning and achievement, and modernization of performance while rationalizing costs through a developed financial management; b) openness to the prospects of this era so as to be enlightened with modern humanist ideas and international expertise in education, science, innovation, culture, communication and creativity by establishing "ISESCO International Consultative Body"; c) transformation of ISESCO from an organization with limited resources into an organization which produces resources through the establishment of the Waqf Fund on modern bases to ensure its security and continuity in times of crises likely to drain its resources.
ISESCO Director General also said "Our vision aims to turn ISESCO into an international beacon in the fields of civilizational building and knowledge progress, and make of its conferences, meetings and workshops occasions to present new initiatives and useful innovative ideas."
Besides, Dr. AlMalik stated "we are working to make ISESCO an organization of competencies and a leadership and creativity center, which coordinates the efforts seeking to develop policies and educational systems in Member States, and improve the performance and outputs of these systems."
He further added that ISESCO should have a purposeful and innovative information mission, an effective communication strategy to defend and promote the status of Arabic language at the Islamic and international levels through the programmes of teaching Arabic language to non-Arabic speakers, support the programmes of writing the languages of Muslim peoples in Arabic script, and become open to the Muslim peoples regardless of the geographical borders.
Dr. AlMalik also underscored that the mission of ISESCO is to develop key leaderships, set developmental policies in its areas of competence, develop knowledge and innovative systems, and provide technical expertise and advice and institutional support through openness to its environment and the world at large.
In conclusion, Dr. AlMalik tackled the nature of the relationship that should be established between ISESCO and media outlets as he commended the role of media professionals and asked to support and develop their role in a consistent way with ISESCO's new vision.
Afterwards, ISESCO Director General received and responded to the remarks and questions of the various media outlets' representatives. He also lauded the suggestions made in some remarks and promised to examine and adopt them in line with the new vision of ISESCO while calling for further communication between the organization and media professionals.